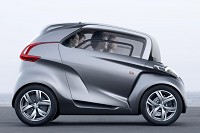 French car manufacturer Peugeot has unveiled its "green" concept car called the BB1, in London.
The new car-cum-scooter model, which is 8.2ft (2.5m) in length, is powered by two lithium-ion battery and a two wheel electric motor mounted in the rear wheels.
The electric vehicle, which can accommodate up to four adults, is hailed for zero emissions and for making parking in urban areas an easy task. It has a range of 75 miles (120km).
With the solar panels on the roof of the vehicle, ventilation in the passenger compartment functions in daylight.
Speaking at the launch ceremony Jon Goodman, Peugeot's UK managing director, said: "Peugeot is constantly pooling its expertise and creativity to design particularly innovative and original projects. The BB1 is the brainchild of this successful collaboration.
"The BB1 concept pushes back the boundaries, creating an inventive, fun, expressive and stylish vehicle."
He added that the present model "is a logical addition to a vehicle line up that incorporates Peugeot bicycles, scooters, cars and light commercial vehicles".
He continued that the firm is focused on improving urban mobility keeping "the environment close at heart".
Copyright © Press Association 2009