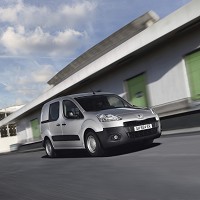 Peugeot has expanded its Partner range to include a new 100% electric option.
The Partner Electric is the latest offering to business customers and represents an opportunity to further reduce dependence on fossil fuels and the negative impact on the environment. Peugeot believes that the new model will achieve these goals without compromising the practicality that defines the Partner range.
The extended power unit allows the Partner Electric to travel further whilst maintaining the range's load volume, which is among the best in its class. The 100% electric model is set to be launched in the 2nd quarter of 2013 and will be on display for the first time at the Hanover Motor Show later this month.
As it does not run on fossil fuels, the Partner Electric will offer drivers access to areas restricted to vehicles that produce low emissions. The car's manufacturer believes that will offer important environmental benefits whilst improving driving pleasure.
Peugeot completed a redesign of the Partner range in spring 2012. A new model will be issued in November offering exceptional fuel economy and 118g/km CO2 emissions.
Copyright Press Association 2012