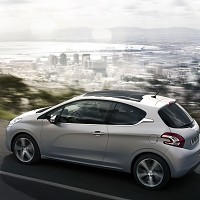 Peugeot has unveiled plans to develop a new hybrid concept based on its 208 'supermini'.
The French manufacturer is in the early stages of creating the 208 Hybrid FE, which, it says, has been appropriately named after two characteristics - Fun and Efficiency.
Technicians from Peugeot and partner company Total have already started work on a modified 208 VTi 1.0-litre 68 prototype and have reportedly made steady progress.
The nippy FE is capable of doing 0-62mph in eight seconds flat, while also featuring significantly reduced carbon emissions of just 49g/km.
Peugeot said the first phase of the concept will focus on the FE's aerodynamics in an effort to lower its drag coefficient and to create unique style features.
Advanced composite materials will be used to forge the body panels, interior materials and the windows, which could slash the final body weight by an astonishing 200kg.
The 208 FE will be powered by a petrol-electric hybrid drivetrain, while combining an automated manual gearbox with lightweight wheels and special low-rolling resistance tyres.
Copyright Press Association 2013