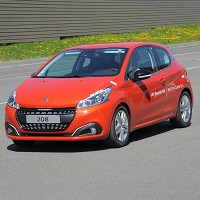 Peugeot has set a new fuel consumption endurance record for a normal internal combustion engine-fuelled production car.
Skilled testers drove a 1.6-litre BlueHDi 100 S&S Peugeot 208 the equivalent of roughly London to John o'Groats and back on less than a full tank of diesel.
They drove the 5-speed hand-operated gearbox model 1,337.19 miles (or 2,152 kilometres) with diesel consumption of only 9.45 gallons (or 43 litres).
Last month's tests gave them typical 141.2 mpg (2.0 l/100km) fuel consumption over the 38-hour drive involving several motorists alternating three-to-four-hour shifts.
Although this was achieved on a French test circuit (Belchamp) rather than on the actual open road, it should still tempt motorists buying a car with efficient fuel consumption in mind.
Peugeot said the new results for its new Euro6 BlueHDi Diesel engines proves its amazing contribution to lowering carbon dioxide emissions.
British drivers can get their hands on the new Peugeot 208 from June. The model has a validated fuel consumption stat of just 94.2mpg (3.0 l/100km) as well as boasting meagre carbon dioxide discharges of just 79g/km.
An aerodynamic hind spoiler plus its new Michelin rolling resistance Energy Saver+ tyre range adds to the model's worth as well as being light, compact and enjoyable to drive.
The French manufacturer is swiftly lowering emissions across its whole range. In fact, 20 of its vehicles now boast best-of-power-class ratings, including 12 BlueHDis, three 1.6-litre THPs and five PureTechs.
Cleaner and less carbon dioxide-producing than ever before, such environmental performance helped PSA Peugeot Citroen's motors maintain their place at the summit of Europe's green car table last year.
Across the range they enjoyed typical emissions of just 110.3g/km. This compared with the average European market vehicle of 123.7g/km.
Specifically Peugeot vehicles averaged out at 109.5g/km. Check out the latest Peugeot 208 car reviews .
Copyright Press Association 2015