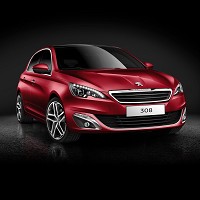 Peugeot has unveiled its brand new 308 hatchback and the only thing it hasn't changed is the number.
The French carmaker has kept the numerical designation of the previous version, but has applied its latest design language and made the car 140kg lighter than its predecessor thanks to its latest developments in production processes.
The lighter 308 is as efficient as it is agile, with emissions as low as 85g/km of CO2 putting it among the lower tax bands.
Set for a Frankfurt Motor Show debut in September, the newPeugeot 308 will be on sale in the UK at the start of next year. When the first buyers open the doors they won't just be getting inside the 308, but into an "i-cockpit" with a dark, sleek style, a small and sporty steering wheel and rev counter and speedometer that rotate in different directions.
The i of i-cockpit stands for "intense, innovative and intuitive", according to the product manager of the new 308, Vincent Devos. Buyers can expect a level of style unmatched in other hatchbacks, he said.
Copyright Press Association 2013