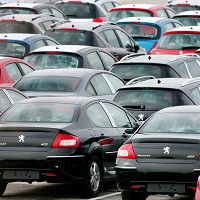 Peugeot Citroen has reported an extraordinary 5 billion euro (£4.3 billion) loss for 2012.
The firm, located in Paris, says its losses for the year, the most significant on record, are a sign of "the deteriorated environment in the automotive sector in Europe".
Turnover from sales of new cars dropped by more than 12% last year to 27.8 billion euros (£23.9 billion).
The firm said that disappointing demand from consumers and the increasing price of materials such as steel resulted in a loss of 1.5 billion euros (£1.3 billion) on its output in 2012.
Europe's car industry slumped by more than 8% in 2012 - to the lowest point on record for seven years, the Brussels-located car industry group ACEA reported. Meanwhile, in France this figure was almost 14%.
Peugeot Citroen, which manufactures over 60% of cars in France, is struggling with a worsening financial climate across many European countries, where it does the majority of its business.
The firm's share price has dropped almost 60% during the last 12 months.
Copyright Press Association 2013