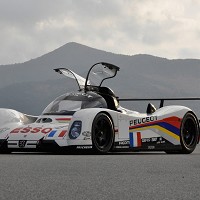 A successful Peugeot Le Mans racer from the 1990s will be one of the star attractions when a selection of rare cars go up for auction at the Le Mans Classic event in July.
The 905B model was bought by its current owner directly from the factory back in 1997 and is expected to fetch between 700,000 euros and 1.2 million euros, thanks to its status as a rare piece of sporting history.
The car was a complete revision of the previous 905, which had struggled in the World Sportscar Championship. And with its better aerodynamics, more powerful engine and improved reliability, it achieved a number of one-two finishes in endurance races around the world.
The 905B was retired in 1993 following the downfall of the World Sportscar Championship. It will be joined in the auction by a 1973 Porsche 911 2.7 RS, a 1983 Lancia 037 Rally Stradale and a 1970 Alfa Romeo 1750 GTV, all three of which were owned and raced by Madame Sacchi.
Copyright Press Association 2012