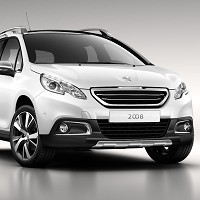 Peugeot's new supermini-crossover will begin hitting car showrooms on July 18 with a starting price of £12,995.
The stylish 2008, which is the plumped-up version of the 208 and a rival to the Nissan Juke, has a choice of four trim levels - Access+, Active, Allure and Feline.
The full pricing structure is yet to be confirmed, but it is thought that the 2008 will be less than £1,000 more expensive than an equivalent specification 208.
There are six engines to choose from, as well as eight exterior colours, six alloy wheel styles and seven "trim environments".
Peugeot also confirmed that one of the models will emit 98g/km of CO2, which will currently qualify for free road tax but will not be exempt from the London Congestion Charge. New rules come into force on July 1, placing the eligibility threshold at 75g/km.
The most efficient 2008 will be capable of averaging more than 74mpg, according to the standard EU tests. The latest three-cylinder small-capacity petrol engines will also be available, as will the grip control system, which is to be a standard feature on most Allure and Feline cars.
Copyright Press Association 2013