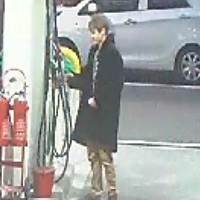 Police investigating an arson attack at a petrol station have released CCTV images of a man starting the fire.
A BP garage on Trafalgar Road in Greenwich, south-east London, was targeted by a man in a black jacket on September 30.
The prime suspect squirts petrol on the ground after casually walking up to a pump.
Police said that a piece of cloth or paper is then placed in the pump before being set alight, sparking a large fire.
The blaze is doused by a member of the public using a fire extinguisher and officers believe that the arsonist may have burned himself in the incident.
As well as a number of motorists filling up in the forecourt being placed in peril, the petrol station is located on a busy road which contains lots of flats and residences, police said.
Detective Constable Karl Buckwell - who is leading efforts to try and trace the man - described the fire as "incredibly dangerous and reckless".
Mr Buckwell believes that the suspect may have burnt his eyebrows and hair in setting the fire and appealed for anyone who knows his identity to contact police.
Copyright Press Association 2014