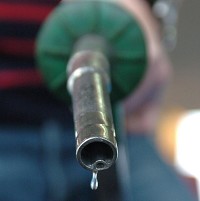 Petrol sales slumped during spring even though prices fell at the pumps, official figures have shown.
The Department of Energy and Climate Change revealed that the number of litres of petrol sold between April and June was 500 million fewer than at the same time in 2011.
With drivers having to find cash forcar insurance ,breakdown cover and tax in a difficult economic climate, the results could indicate that many motorists are trying to limit their journeys.
The spring fall followed hot on the heels of a bumper quarter that was boosted by panic buying during the tanker drivers' dispute.
During the previous three months there was almost a 120 million litre increase in petrol sales compared to the previous year.
Overall figures showed that there were two billion fewer litres of petrol and diesel sold in the first half of this year (16.7 billion litres) compared to the same period four years ago (18.97 billion litres) - which was before the recession.
RAC technical director David Bizley said: "Research from the 2012 RAC Report on Motoring found a steady reduction in the number of discretionary journeys people are making. In addition to this there is also a trend for buying smaller vehicles and driving in a more fuel efficient way.
"Unfortunately people are very quickly running out of options to reduce the amount of their income they have to spend on putting fuel in their cars.
"The next quarter's fuel sales figures will be critical. If they show a further drop then this will indicate a true cause for concern. The planned 3p a litre rise in fuel duty planned for January 2013 could be the final straw for Britain's motorists."
Copyright Press Association 2012