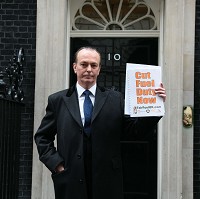 A bid to persuade competition chiefs to rethink the petrol and diesel pricing system seems to have failed.
FairFuelUK campaign group, together with some MPs, handed in a 32,000-signature petition to theOffice of Fair Trading (OFT) on Monday (July 15).
It called for a thorough and open inquiry into oil pricing as aninsurance against unfair competition.
This followed an inquiry into the fuel sector by the OFT.
The European Commission (EC) has started its own inquiry and a US senator has compelled America to get involved too. The OFT said after receiving the petition that it had been working closely with the EC but that it "cannot take civil enforcement action in relation to the same matters as the Commission".
The OFT continued: "We have also been liaising closely with other UK agencies, including the SFO (Serious Fraud Office and the FCA (Financial Conduct Authority) to establish whether there is sufficient available evidence to warrant a criminal investigation in the UK."
It said it welcomes any fresh information about this market.
Quentin Willson, of FairFuelUK, said: "It's time for a Parliamentary inquiry into the damage oil price speculation does to the UK economy."
Copyright © Press Association 2013