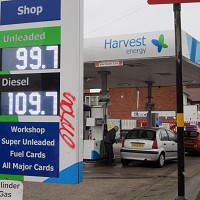 The RAC expects petrol prices to dip below the £1 mark within the next few weeks - the first time that has happened since 2009.
Chief engineer David Bizley says it is likely that the recent drops in the cost of oil will start to filter through to the forecourts sometime next month.
Unleaded petrol currently costs an average of £1.07 a litre, according to RAC Fuel Watch . However, with some forecourts selling at 4p less than that, it is predicted that a recent 2p drop in wholesale prices could push some prices down close to £1 or even lower.
Mr Bizley points out there is typically about a two-week lag in the system, so the drop in the cost of oil is not expected to benefit consumers immediately.
But he says there is "a very good chance" that within a few weeks garages will be selling fuel at £1.01, and then the temptation to move that extra penny or so "will be unavoidable".
The last time petrol prices were as low as that was in the summer of 2009, according to the RAC.
Last week, RAC fuel spokesman Simon Williams said he hoped that drops in the cost of crude oil would be passed on to consumers.
"With oil prices already consistently low as a result of too much supply, the dip - even though it will be temporary - should still be reflected in wholesale prices, making fuel cheaper for motorists," he said.
"We hope retailers will be quick to pass on these new wholesale fuel savings at the pumps to make the cost of a litre cheaper still."
A barrel of oil has now not been above 50 US dollars (£33) since mid-October and not consistently above that mark since the end of July.
Motoring News articles do not reflect the RAC's views unless clearly stated.
Copyright Press Association 2015