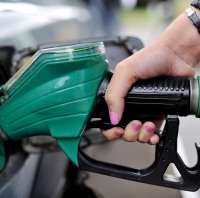 Petrol prices tumbled once again in February, marking eight consecutive months of falls.
RAC data reveals the average price of unleaded dropped 0.16p a litre to 101.93p, as the wholesale price continued to slide.
Prices of petrol have been falling since July last year when the average price of a litre was 117p.
Diesel climbed from 101.11p to 101.18p, yet it remains almost a penny cheaper than petrol.
"Forecourt prices of both petrol and diesel have remained remarkably stable in February despite the pound losing 3% of its value against the dollar and talk of an oil production cut," says RAC fuel spokesman Simon Williams.
"Motorists are still benefiting from low prices at the pumps, with the supermarkets having held their petrol prices under £1 a litre, thanks to a depressed wholesale price. In fact the wholesale price of petrol has fallen due to refineries scaling down heating oil production and switching instead to producing more unleaded, together with the US refining more petrol as it gears up for the American driving season which starts in May.
"This tends to have the temporary short-term effect of reducing the wholesale price, but this may change as demand for petrol picks up in the States."
Average petrol and diesel prices at supermarket forecourts hardly changed in February. Petrol started the month at 99.88p and finished at 99.86p, while diesel rose marginally from 97.96p to 98.24p.
The wholesale price of petrol finished the month 2p a litre cheaper than at the start due to increased petrol production. Diesel's wholesale price was 2.5p higher.
"The oil price had been consistently around $30 for most of the month but in the last few days of February rose to around $36 - a price we haven't seen since the beginning of the year," adds Mr Williams.
"While the average pump price of diesel has been cheaper than petrol since the end of January (25 January 2016) this may not last much longer due to the increase in petrol production and its lower wholesale price. But the additional supply of diesel on the wholesale market brought about by greater refinery capacity in Saudi Arabia and India should mean prices remain comparatively stable for diesel motorists at the pump.
"If it proves to be the case that oil prices have bottomed out, the RAC will be monitoring the effect on pump prices even more closely for any sign of the infamous 'rocket and feather effect' where prices go up far faster than they came down."
Copyright Press Association 2016. Motoring News articles do not reflect the RAC's views unless clearly stated.