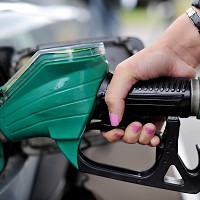 The RAC has warned that fuel duty could rise next year after it was conspicuously absent from the Chancellor's Autumn Statement.
Tax makes up about 70% of the total cost of a tank of petrol or diesel and, after years of freezing fuel duty, it had been thought George Osborne might raise it to cut the deficit.
But he made no mention of it in his speech to the House of Commons yesterday.
RAC chief engineer David Bizley believes the clear implication is that it will rise from next April.
"Motorists may be relieved that the Chancellor has not used low fuel prices as an immediate opportunity to raise duty on petrol and diesel to help reduce the deficit," he says.
"But by not mentioning fuel duty in his Autumn Statement, the implication is that the 57.95p charged on every litre currently will be subject to inflationary increases in line with RPI from April 2016 onwards.
"This will go down like a lead balloon with motorists who have been benefitting from lower pump prices as oil prices have fallen. It also goes completely against the Treasury's own findings that lower fuel prices are good for the economy and an extremely inefficient way of raising additional taxation revenues for the Treasury.
"Motorists already pay £26 billion in fuel duty per year so any increase to this tax on petrol and diesel will be hugely disappointing and a backward step which will prove damaging to the economy in the longer term."
Mr Osborne also announced that drivers of diesel company cars will continue to pay an extra 3% in tax for another six years, saving the Treasury £1.36 billion.
It comes after the Volkswagen emissions scandal, which saw the company admit it had cheated pollution tests.
RAC Business head of corporate sales Jenny Powley says: "Company car drivers will clearly be disappointed by this announcement, as diesel engines have come a long way in terms of CO2 emissions since the supplement was introduced in 2002.
"Many company car drivers will have chosen diesel vehicles this year with the expectation that the supplement would be lifted in April 2016.
"Of course recent events surrounding diesel engine emissions and testing processes at VW have changed the perception of diesel in the market place. It seems that the Chancellor has also been influenced by that as the reasons given for the supplement to remain until 2021, is that EU-wide testing procedures should ensure new diesel cars meet air quality standards by then, even under strict real world driving conditions.
"However, it would seem unfair to penalise diesel vehicle drivers by extending the Benefit in Kind tax when it was originally based on levels of CO2 emissions, which have improved considerably in the last 10 years."
Copyright Press Association 2015. Motoring News articles do not reflect the RAC's views unless clearly stated.