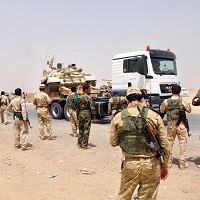 The unrest unfolding in Iraq threatens to drive up petrol prices in the UK, motorists are being warned.
Pump prices could rise by 2p a litre in the short term, the RAC says, with further increases expected if the crisis is not resolved quickly.
The Government has got behind relief measures by deploying a humanitarian team as hundreds of thousands of people have been forced to flee after Islamist militants took control of parts of northern Iraq.
RAC head of external affairs Pete Williams said: "The worsening situation in Iraq is causing a knee-jerk reaction in the global fuel market with wholesale prices going up one pence over Wednesday and Thursday.
"This uncertainty is being made worse as the warring factions advance on some of the oil facilities, particularly the city of Kirkuk. We anticipate that it is likely to push the pump price of both petrol and diesel by 2p per litre in the short-term and this could well go much further.
"After a period of relative stability, and a welcome drop in the cost differential for diesel, this once again demonstrates how UK motorists and businesses are at the mercy of world events and the volatile nature of the global fuel market."
International Development Secretary Justine Greening said the UK's Department for International Development is poised to provide "whatever help is needed", though Foreign Secretary William Hague said Britain would not be sending in military help to calm the turmoil.
Copyright Press Association 2014