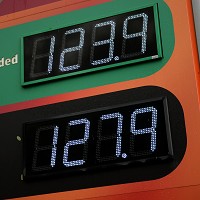 A price war on the forecourts could drive the cost of petrol down to around £1 a litre at UK supermarkets.
Fresh deals mean that drivers can already fill up for around £1.03 a litre at certain outlets - creeping closer towards the £1 mark last enjoyed back in May 2009.
Average prices are at their lowest level for four years - currently clocking up £1.25, but as low as £1.19 at some outlets. The RAC described the latest developments as a "fantastically good piece of news".
Peak prices of £1.42 a litre were reached in April 2012, which would have meant filling a Ford Focus cost £71. It now costs £63.
With crude oil prices falling, it is believed that petrol will cost even less, leading to a wave of special offers and deals to entice customers.
RAC fuel spokesman Simon Williams said the latest price cuts "will take us to a new low, the likes of which we haven't seen since late 2010. It is fantastically good piece of news for drivers, it really is.
"We have a really transparent fuel market at the moment. I don't think we've ever seen prices come down so sharply at this.
"There has been an over-supply of crude oil in recent weeks and we are seeing the cheapest prices since December 2010 and January 2011."
Copyright Press Association 2014