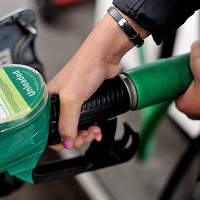 Motorists in Birmingham can now buy petrol for just 99.7p a litre, after a service station in the city became the first in Britain to cut prices to below £1.
The move means that Harvest Energy service station, based in Alcester Road South, now offers the cheapest petrol anywhere in the country, according to the RAC.
It is also the lowest petrol price seen in Britain since 2009.
Velautham Sarveswaran, owner of the service station, told the Birmingham Mail he was very pleased to offer petrol at such a low price as he likes to make his customers happy.
He added that he has also cut the price of diesel at the station - to 109.7p - thanks to a "great deal" with his supplier.
It has been suggested that the move could encourage other retailers in the Midlands to cut their prices too.
Mr Sarveswaran made headlines in December when he cut the price of petrol to 109.7p a litre at another of his three petrol stations, leading to huge queues.
RAC fuel spokesman Simon Williams said: "The decision of three forecourts in the West Midlands to sell petrol for under £1 a litre - last seen in 2009 - is clearly having a ripple effect on the supermarkets as they are continuing to bring their prices lower still.
"With a barrel of oil now costing around $47, we are surely only weeks away from the milestone price of £1 a litre being a common sight at petrol stations up and down the country. This will also have a very positve effect on reducing the average price of both petrol and diesel for motorists everywhere.
"And, as the current over-supply of oil is believed to be part of a long-term OPEC strategy to keep oil prices low, there is every reason to think that motorists may well enjoy low prices for some time to come.
"However, we are now getting to a point where the share that the Treasury takes from the forecourt price is nearing 75% which is a bitter pill for motorists and retailers. We should perhaps be seeking a commitment from all the major political parties that they will not look to increase fuel duty in the next Parliament."
Copyright Press Association 2015