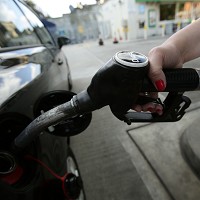 Filling up at the pumps is at its cheapest for three years as the latest supermarket fuel price war hots up.
Diesel prices are dropping by up to 2p a litre at Sainsbury's and Asda on Tuesday - with a 1p cut for unleaded petrol.
Tesco is also cutting prices, with a penny off a litre of petrol as well as a minimum of 1p a litre off the price of diesel, with many of its 500 forecourts matching its rivals' 2p cut.
The "unprecedented" reductions come thanks to a drop in global demand for Brent crude oil - currently priced below 90 dollars a barrel - although the strong dollar has offset some of the potential benefit for UK drivers.
RAC fuel spokesman Simon Williams: "This great news for motorists and continues the downward trend of lower fuel prices the country has been enjoying this year. Motorists always used to say that pump prices never came down as fast as they went up but retailers are clearly demonstrating that this is no longer the case.
"The lower prices to date have been very much a result of the pound's strength against the dollar, but this latest cut is a product of the price of oil falling globally. Motorists buying at the cheapest forecourts will now be paying seven pence a litre less for petrol and 11p less for diesel than they were at the start of the year. On an average family-sized car this translates to a saving of nearly £4 for a tank of petrol and over £6 for a tank of diesel.
"This is an unprecedented price reduction but one which should make a massive difference to people's pockets as well as to the wider economy. Long may it continue."
The big three supermarkets are using fuel prices as part of their efforts to fight back against low-cost rivals Lidl and Aldi, which have been steadily eating into their market share.
Asda promised its cuts, which will see unleaded at no more than 123.7p a litre and diesel at no more than 126.7p a litre, will apply at all of its 232 petrol stations as part of a national price cap.
Copyright Press Association 2014