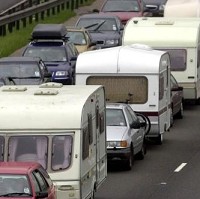 Britain's number one advanced driver Peter Rodger is giving advice this week on towing, thanks to road safety charity the IAM.
"Whether you're towing a speedboat, a horsebox, a caravan or another car, there are certain rules which must be applied. It is important to recognise the challenges which come with having to control not just one vehicle, but two," said Rodger.
Here is a breakdown of Rodger's towing techniques:
:: Be mindful of the weight of the towed vehicle as it should not be more than 85 per cent of the car's kerb weight.
:: Make sure the object being towed is securely attached before starting your journey, and stop and check once more after travelling for a short while.
:: Make sure the rear lights at the back of the towed unit are in working order. Ask someone to help you check the lights as you apply brakes and turn signals. In addition to the extra lights, the towed unit requires a lighted number plate.
:: Make sure the air pressure of all tyres is adequate, including the tyres of the towed unit.
:: You will need to increase both the stopping distances and the space between your vehicles and other vehicles. In addition to extra length, you are carrying extra weight.
:: While driving check your mirrors often. Because you cannot use your rear view mirror, extended door mirrors are quite helpful.
:: Know that lower speed limits generally apply when vehicles are towed. Also, be courteous and allow vehicles behind you to pass you.
Copyright Press Association 2013