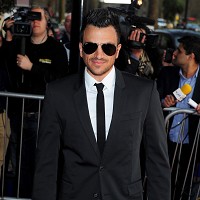 Children In Need is looking to attract scores of females to car dealerships throughout the country as TV and music star Peter Andre has agreed to take part in 'The UK's Largest Car Wash'.
Between November 5-10, 272 Peugeot dealers across the UK will be participating in a charity initiative, which Peter Andre will be launching at the company's Robins and Day dealership in Chiswick. In exchange for a donation to Children In Need, car owners are invited to come along and have their car washed.
The children's charity is hoping to raise over £250,000 with Peugeot's help and the dealership chain are also selling unique car washing kits so that people can join in at home. A Pudsey sponge and a 300ml bottle of Pudsey's wash & wax are included in the sought-after 'Get Sudsy With Pudsey' packs.
To receive a Pudsey Car Wash Kit visitors need to donate £5 or more at any Peugeot dealership or online atwww.pudseyscarwash.co.uk .
On the initiative, Peter Andre commented: "I'm delighted to be able to offer my services to the UK's Largest Car Wash in support of such a worthwhile cause."
Copyright Press Association 2013