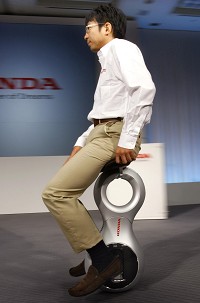 A new "personal mobility" device has been unveiled by Japanese car maker Honda.
Called "U3-X", it looks like a unicycle, but is moved by the user shifting their weight in the direction they want the device to go.
The U3-X is designed to be small and unobtrusive, and can mingle with pedestrians. With a top speed of just 3.7 miles per hour, it does not pose a danger to the public either.
The device has one main wheel, which is made up of tiny motor-controlled wheels, allowing it to swerve in any direction.
The car maker said there are no sales plans, pricing or firm ideas as to how the machine will be used.
Takanobu Ito, president of Honda said: "Engineers are always thinking about people's dreams and wishes about mobility. We will continue to work hard to be a leader in that area."
Copyright © Press Association 2009