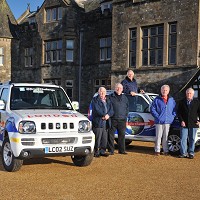 A team of five pensioners is set to drive 28,000 miles in a pair of Suzuki Jimnys in an attempt to raise vital funds for two charities.
Retired Suzuki fans Leslie Carvall, Glyn Maher, Alan Butler, Charles Scott and Peter Streets will set off from Trafalgar Square in London and head for mainland Europe, taking in many countries on their way, before heading east towards Moscow.
The men are currently undergoing fitness tests and taking lessons in car repairs as it may take a while forvehicle breakdown providers to send help should they suffer any problems with the vehicles.
All money raised on the journey, labelled "Heaven can wait - I'm busy", will go to Save the Children and the Oakhaven Hospice in Lymington, Hampshire.
Les said the team was inspired to take on the challenge after seeing the convoy of cars taking part in the Paris to Peking Rally. He added the men wanted to do something similar for charity.
Brand new Suzuki Jimnys were picked as the steeds for the journey thanks to their reputation as a simple, lightweight, tough and reliable 4x4, and both have been decked out in full expedition livery.
Copyright Press Association 2013