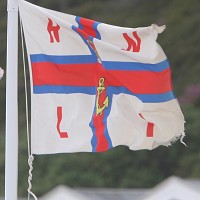 An elderly driver was dramatically saved by lifeguards in a terrifying ordeal on Monday.
The 80-something man's car began sinking beneath the water after being marooned on a Lancashire tidal causeway.
The pensioner could not open either the doors or electric windows because of the level and pressure of the rapidly-rising waters between Sunderland Point and Overton.
A Morecambe-based RNLI lifeboat crew forced his car door open then lifted the motorist to safety just before waves engulfed the motor.
Morecambe RNLI's Trevor McMeeking called it a "close-run thing".
The pensioner, who was found in distress and shivering, was given oxygen and treated for exposure to the cold.
An ambulance in nearby Snatchems was waiting for him when they got back to the safety of dry land.
Copyright Press Association 2014