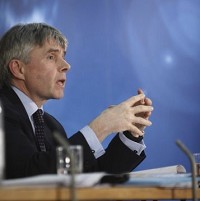 Motorists offered lower car tax incentives for driving diesel vehicles over the past 14 years were misadvised by Tony Blair's administration, an expert has claimed.
Former Science Minister Lord Drayson says Labour's tax break was a mistake as such vehicles - far from being less polluting - are now known to be "killing people".
But scores of drivers were wrongly coaxed into buying a car from the diesel range in the belief that they were better for the environment, he says.
This tax break is still in place now. But Lord Drayson says driver behaviour should once more be refocused - this time towards new, cleaner technology.
He wants ministers to introduce a scrappage initiative which would encourage drivers to buy hybrid or electric motors instead.
His comments come amid the Volkswagen emissions test scandal and as Government leaders and business officials attend Thursday's Birmingham-hosted National Air Quality Conference.
Lord Drayson's own company is a clean energy investor and he has enjoyed racing in electric vehicles. He claims that people today have far better knowledge regarding the harmful consequences of diesel vehicle emissions.
The Society of Motor Manufacturers and Traders (SMMT)'s Mike Hawes told Thursday's conference it is not fair to penalise every diesel driver.
Mr Hawes, the Society's chief executive, said that today's diesel cars have never been so clean, adding that filters and treatment systems have virtually eradicated particulate emissions. In effect, these have lowered nitrogen oxide rates by 92% over the generations.
These cars produce up to a fifth less CO2 than petrol equivalents and so substantially help contribute to climate change goals, Mr Hawes added.
Lord Drayson had a five-year spell as a Labour minister from 2005 to 2010. This included two years as science minister (2008-2010) in the government of Gordon Brown, who was Chancellor when the diesel car tax breaks were launched.
Copyright Press Association 2015