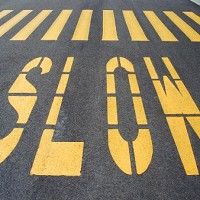 A police and crime commissioner (PCC) has apologised for saying motorists should be able to go "flat out" if they are skilled enough drivers.
Stephen Bett, PCC for Norfolk, issued a statement after his comments in an interview on BBC Norfolk drew the ire of road safety groups.
Mr Bett also told interviewers that he would like to see speed limits on motorways and other major roads abolished.
"We ought to drive to road conditions rather than set limits," he said. "The problem is that there are so many signs drivers get mesmerised by them."
Asked how fast people should be allowed to drive, Mr Bett replied: "It depends on the driver - if you've got a Formula One racing driver, well, you can go flat out.
"If he was a racing driver and really, really good and had tremendous reflexes, probably as fast as the car will go."
The former Norfolk Police Authority chairman said his "flippant" remarks were intended to be "tongue-in-cheek" and had obscured his serious message about the visual clutter of road signs.
"I fully acknowledge that speed is regarded as a contributory factor in determining the outcome of collisions. My comments were not meant to be offensive," Mr Bett added.
Copyright Press Association 2013