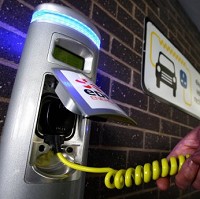 York is hoping to lead the way in green motoring by becoming the first city in the UK to have pay-as-you-go charging points for electric cars.
The council is planning to install a series of fast charging points across the city which will enable motorists to add a 30-mile range to their car with a half hour charge.
There are already 12 charging points across dotted across the city, but these rapid charge hubs will allow users to pay by phone or text or pay instantly by pre-registering credit or debit card details.
Using a special mobile phone app, motorists will be able to track their energy usage and find available charging points.
Electric cars have a very low range compared to traditional vehicles, so a large network of charging points will reduce the chances of motorists being stranded by the side of the road.
The charging points in York will be at the York Designer Outlet as well as some of the city's major hotels and supermarkets and the Park & Ride sites.
City of York Council is holding an event to allow people to find out more about electric vehicles.
The Switched On event will take place at the south entrance to York Designer Outlet on Wednesday, 10 April from 10.30am to 4pm.
Copyright Press Association 2013