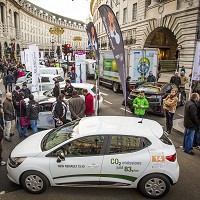 The cars of yesterday, today and tomorrow are converging on central London next month.
The free-to-view Regent Street Motor Show on Saturday, November 2, unites a plethora of pre-1905 vehicles.
A day later they set their old-fashionedjourney planners (or maps as the old tech versions are known) for Sussex in the London to Brighton Veteran Car Run.
As many as 250,000 visitors are expected at the exhibition, which will also feature present and future cars from some of the world's major manufacturers.
BMW will be showcasing the futuristic i3 electric vehicle besides the latest 4-Series and MINI offerings.
Renault, too, will be touting the zero emission advantages of pure electric vehicles with its ZOE and Twizy versions besides the latest Clio and Captur.
London, with the growth of charging stations across the city and congestion charge-free motoring for cars with low exhaust emissions, is becoming Europe's EV capital.
Up to 100 veterans, some fuelled by steam, will contest leading honours in the EFG International Concours d'Elegance, while Aston Martin and Porsche will also offer retrospectives.
Aston Martin will mark its centenary with a show of vehicles from yesterday, and Porsche switches the spotlight on the esteemed 911 sports car, toasting its 50th birthday in 2013.
Copyright © Press Association 2013