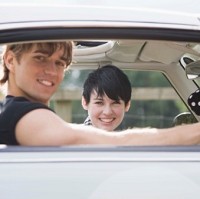 More than half of young motorists get distracted when they drive with friends as passengers in the car, according to a new study by the Association of British Insurers (ABI).
The research also found 45% of young drivers were distracted by the scenery and 44% by the radio. Nearly a quarter said it was acceptable to speed at night, while 26% said they considered it fine to speed on rural roads.
James Dalton, the ABI's head of motor, said: "Many young drivers who are not yet experienced behind the wheel find it hard to concentrate when driving."
The ABI is offering abreakdown of discussion points as it urges parents to advise their children who drive to map out a route away from poorly lit roads, consider the necessity of driving their friends after dark, and not to turn on the radio if they are driving after dark or in adverse conditions.
Young drivers are also being warned not to use their hand-held mobile phone while driving as it is illegal.
Copyright © Press Association 2013
Caption: More than half of young drivers get distracted when there are passengers in the car, a new study has shown