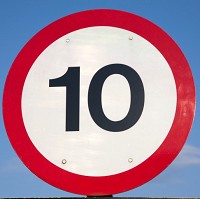 Motorists could be asked to cut their speed to just 10mph on some roads, under Liberal Democrat plans supported at the party's spring conference.
The move forms part of the green transport laws which the party says it will implement to improve roads and cut pollution if it wins power at the election.
The laws would give English councils the power to impose 10mph speed limits on roads near schools.
The conference in Liverpool also gave its backing to plans to ban cars with high emission levels by 2040.
The party's election manifesto pledges to introduce five green laws covering everything from transport and energy through to nature and litter.
One of the proposed laws - the Nature Act - would seek to protect British wildlife and areas of forestry, while the Zero Waste Britain Act would bring tougher sentences for those convicted of environmental offences like fly tipping.
Copyright Press Association 2015