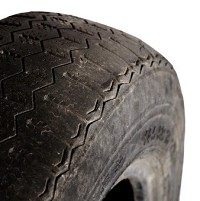 A tyre safety group has warned that motorists who buy cheaper, part-worn tyres are not necessarily saving themselves money.
TyreSafe has worked out that part-worn tyres, which are bought with around 3mm of tread on average, only have around 1.4mm of usable tread before reaching the 1.6mm legal limit - the equivalent of 4,000 miles of driving.
New tyres have 8mm of tread, giving drivers 6.4mm of rubber to use before they need replacing - working out at an extra 14,000 miles of motoring.
The charity said that more than four million drivers a year buy tyres that have been used on another vehicle, and one in six motorists have bought second-hand parts for their car at some point.
TyreSafe has calculated that new tyres cost drivers £5.32 per millimetre of tread for a new set, compared to part-worn tyres that cost £6.33 per millimetre of usable tread.
Copyright Press Association 2014