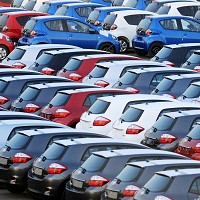 The average selling price of part exchange vehicles has risen for the first time since March, figures show.
Values were also 16.6% higher for the period of June 2012 to June 2013, according to data from Manheim's Market Analysis report.
The average of prices from the dealer sector increased by £37 last month, reflecting a fall of one month in average age and a fall in average mileage of 1,660 miles.
Selling prices have also seen an increase with a rise by £94 to £2,768 as an average selling price meaning buyers may have to shop around for better value car insurance .
This is despite a rise in average mileage of 317 miles.
Daren Wiseman, valuation services manager at Manheim Auctions, said: "The latest market analysis figures seem to show a fairly buoyant market, especially in comparison with the wider retail landscape.
"We're seeing dealers take a more flexible approach when it comes to selecting the vehicles they put out on their forecourts to attract interest but, inevitably, age and mileage still matter - especially in relation to the quality of the vehicle.
"And, while quality stock remains in short supply, we are likely to see average values continue to rise."
Copyright Press Association 2013