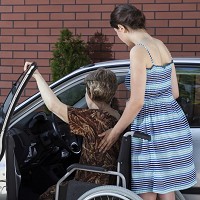 The Institute of Advanced Motorists (IAM) has offered blue badge holders in the UK tips on safe and effective parking.
Reversing into a parking bay is much easier and safer than reversing out of one, plus a hot engine means it's better for the environment too.
While it may be tempting to simply loop around into the bay in the supermarket, it is often better in the long run to take the time to pull back into it, assuming that there is sufficient space to do so.
When parking on a street it's important for blue badge drivers to think about the space they need to get out of the car and back into it again, this includes space to access car doors and the boot if necessary.
It is also crucial to park well away from sharp bends or junctions where a parked car may be in the way or out of site until it is too late. This may mean parking further from the destination but it also means more safety.
Parking a little further away from places like supermarkets and shopping centres can also lower the chance of accidental, or even intentional damage in a busy area.
Most blue badge holders know that lending their badge to other drivers is illegal, but it's important that holders tell people who drive them not to use the badges when there is no holder present.
Considering all of these tips can make life a lot easier and safer for blue badge holders.
Copyright Press Association 2014