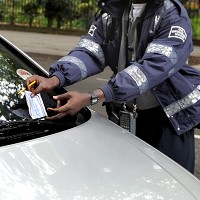 Britain needs to call time on its "over-zealous culture of parking enforcement", according to Local Government Secretary Eric Pickles.
Mr Pickles called on "officious" traffic wardens to take a more lenient, common-sense approach when dishing out parking tickets.
The current flurry of tickets amounts to "persecuting motorists" and is harming small businesses across the UK, Mr Pickles warned.
Ministers are considering a raft of new measures to assist car owners, including removing the risk of fixed penalties for motorists who briefly hover outside a shop while they nip in to make a purchase.
Local councils also need to create more off-street parking spaces to take the pressure off busy roads, Mr Pickles said, which would also help cut down on the types of minor bumps and scrapes which force thousands of motorists to claim on their car insurance each year.
Speaking at the Conservative spring forum at the weekend, Mr Pickles said local authorities needed to put an end to "dodgy town hall contracts" which he said rewarded the proliferation of fixed penalty notices.
"I believe we need to give people the good grace to pop into a local corner shop for 10 minutes, to buy a newspaper or a loaf of bread without risking a £70 fine," he added.
Copyright Press Association 2013