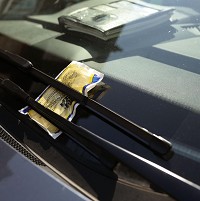 Councils are using their parking enforcement power simply to make money, which is against the law, according to the Local Government Secretary.
Eric Pickles also said local authorities might end up being barred from using "spy cars" and CCTV to fine people for parking offences.
In an interview with ITV's Daybreak, he said council incomes are being fed by such practices which are "outside the law".
Motorists who are "negligent, or inconsiderate in terms of parking, or causing dangers to others" should be prioritised instead, Mr Pickles said.
"We are worried that what is happening in local authorities is they are using parking fines as a kind of a cash cow from motorists. The legislation is very clear: you cannot do so.
"The legislation originally on CCTV was really about ensuring it was about stopping crime, not using it as a way just to pick out motorists to make that extra few bob."
The Government will be proposing law changes under theTraffic Management Act 2004 to prevent councils from acting in such a way.
A consultation may also include a proposed extension to the five-minute grace period motorists are allowed in which to return to their vehicle. This might be changed to 15 minutes, Mr Pickles said.
Appealing against tickets which drivers believe have been wrongly issued may be made easier, he added.
Copyright © Press Association 2013