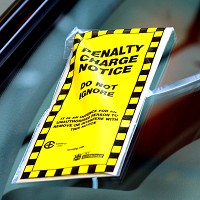 A rise in driver detail requests from private parking companies has sparked fears that more drivers will be hit by parking charge penalties.
Firms are asking for hundreds of thousands more drivers' details from the DVLA compared to two years ago, according to the latest statistics.
Labour says the figures suggest the industry is pursuing claims against more and more people.
Penalty charge notices for on-street parking offences usually cost a standard £60, but can be raised if they go unpaid.
Shadow transport secretary Lilian Greenwood is calling on the Government to make sure information is only handed out when "absolutely necessary".
There were 3.6 million electronic requests for vehicle keeper data from private parking companies last year, up from 2.2 million in 2013.
The total number of chargeable requests made to the DVLA for vehicle and driver information in 2014/15 - from everyone, not just private parking companies - was 6.3 million. The figure was just shy of 2.9 million in 2009/10.
Vehicle keeper data is available to anyone. It can be used to find out things like who may have been responsible for an accident.
P rivate parking companies often use the service to help them issue parking tickets.
Copyright Press Association 2016. Motoring News articles do not reflect the RAC's views unless clearly stated.