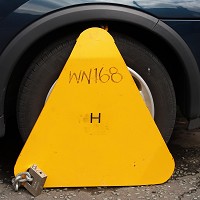 More than one in five private parking enforcement firms have been suspended - shortly after the Government's new clampdown on clampers.
October saw The Home Office ban clamping on private land after the practice enraged drivers and motoring organisations alike.
But campaigners - who say the new rules don't go far enough - now fear the consequences of new powers to allow the parking companies to issue fines of up to £100.
They say at least another half-a-million private tickets will be issued on top of the two-million fines already dished out by enforcement firms.
Twenty-seven approved firms, who monitor private car parks, shopping centres and motorway service stations, have been given access to drivers' details held by the DVLA.
The Home Office said October's change would save motorists £55 million a year in clamping charges.
But the new rules have already been called into question by the DVLA's decision to suspend six of the firms.
The old clamping system was attacked by campaigners saying there was no room for discretion, especially in cases where vehicles hadbroken down on private land.
Copyright © Press Association 2012