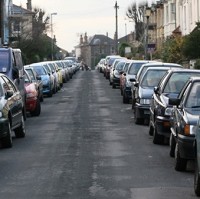 A lack of residential parking could lead to people having to park their cars unsafely in the street and risk of getting scratched or bumped by passing vehicles.
Cars parked on both sides of a narrow road can cause difficulty for emergency services and delivery vehicles to get through, according to a study.
The research by the Institute of Highway Engineers (IHE) and the Chartered Institute of Highways and Transportation (CIHT) showed that parking is causing arguments among neighbours and that some garages are not big enough for the cars.
The report said: "Parking problems manifest themselves in pavement parking, blocked driveways, difficult access for delivery vehicles and refuse collectors, damage to verges, trees and footpaths, and cluttered, unsightly streets.
"They cause tension between neighbours that has been known to escalate into violence, and reduce the likelihood of children using the street for play."
It also said that poor parking plans can ruin a neighbourhood's look and feel, with the study concluding that it is down to the local authorities to set the standards to suit the local needs.
Copyright © Press Association 2012