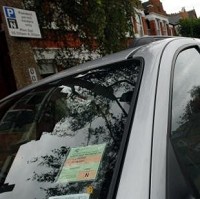 A High Court victory by residents angry at their council increasing the cost of parking permits may have implications across the country.
A judge ruled that Barnet Council in North London broke the law when it decided to up the cost of residents' parking permits and visitor vouchers in controlled parking zones.
The council said the increased revenue would be spent on road maintenance and improvements, concessionary fares and other road transport costs, but Mrs Justice Lang said at London's High Court that the 1984 Road Traffic Regulation Act "is not a fiscal measure and does not authorise the authority to use its powers to charge local residents for parking in order to raise surplus revenue for other transport purposes".
A group of parents and residents from the area set up Barnet CPZ Action Group to fight the council along with David Attfield, who brought the lead case.
The council must now repay the parking charges unlawfully obtained from Mr Attfield, plus his legal costs.
But more significantly, this case will now set a precedent for thousands of other residents in Barnet and beyond.
The judge formally rejected Barnet's application to appeal against her ruling, meaning the authority must turn to the Court of Appeal to hear its case.
Copyright Press Association 2013