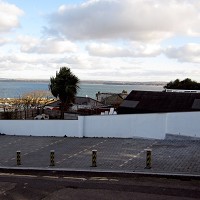 If you think the £5 or £10 city centre parking charges are a bit steep spare a thought for the motorists who've splashed out more than £160,000 on just three spaces.
The parking spots in Cornwall's St Ives resort have been sold off at auction. The first went for £55,000, while the other two fetched £56,000 and £50,000 respectively - more than double Cornwall's average annual salary.
The parking bays are on Barnoon Terrace, close to the Tate St Ives gallery, with the bids making charges for car insurance and breakdown cover look like loose change.
A further two spaces - which measure just 20ft by 8ft - attracted £50,000 bids but with the reserve prices not matched, their sales are expected to be privately agreed over the next day or so.
Chris Baxter, director of Bradleys estate agents, said the bids demonstrated the importance of parking in St Ives and the fact that in-demand property prices there were still rising despite the credit crunch.
Copyright © Press Association 2012