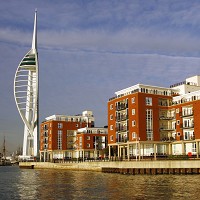 Motorists have been using park and ride schemes for years but now a city council is going a step further by introducing a new "park and sail" service this summer.
Portsmouth City Council is to launch the service to bring shoppers to the popularGunwharf Quays retail centre by ferry, and their journeys will include a tour of the city's harbour, Royal Navy vessels, docks and ferries, complete with commentary.
The council hopes to attract more visitors and ease traffic congestion as Portsmouth is an island with just three main routes to the mainland. Traffic build-ups can be a big problem, particularly at the weekend, according to the cabinet member for transport and environment Councillor Jason Fazackarley.
The council plans to charge drivers £5 per vehicle to attract them to the scheme that forms a part of the "My Journey Portsmouth" travel campaign to get more people in the Hampshire city using public transport or walking and cycling instead of driving cars into the city centre. Visitors to the city can add an extra trip to theirjourney planner route this summer.
A council spokesman said passengers get a 25-minute tour of the area, including a look at Royal Navy ships old and new before disembarking under the famous Spinnaker Tower at Gunwharf Quays. The ferries begin the trips on July 27 and will run every hour at weekends and end on the August 26 bank holiday.
Copyright Press Association 2013