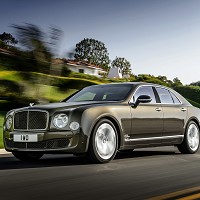 Bentley fans will soon be able to catch a glimpse of the new flagship model - the Mulsanne Speed.
The luxury car maker will show off its 6.75-litre car - which has a top speed of 190 mph - at next month's Paris Motor Show.
Described as the car that "defines" Bentley's luxury performance, potential buyers will be able to get their hands on the model later this year, although pricing is yet to be revealed.
However, motorists can reasonably expect to shell out more than what is asked for the existing Mulsanne model - which is priced at £224,000 and will be updated in 2015.
The new Mulsanne Speed has a 0-60 mph time of just 4.8 seconds and more than 100 body paint colours and numerous gadgets to choose from.
It is being made at the company's headquarters in Crewe, Cheshire, and will boast improved fuel efficiency.
Bentley Motors chairman and chief executive Wolfgang Durheimer said the firm hasn't compromised on design or engineering in assembling the new model.
Bentley has seen delivery of its models increase by almost a fifth since 2012, with last year's worldwide total reaching 10,120 cars.
Copyright Press Association 2014