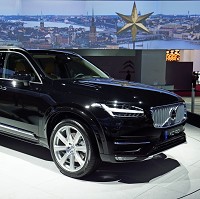 A trio of new releases caught the eye during the opening stages of the 2014 Paris Motor Show.
And it seems the Volvo XC90, Mazda MX-5 and Jaguar XE models are all targeting that certain 'X' factor.
The latest generation of Volvo's hugely successful, large SUV takes the brand in a new direction with a bolder design featuring distinctive headlights and a robust and striking front grille. It adds to its appeal with chunky, 22-inch wheels that further bolster its road presence.
It has a radical interior too, including a large touch screen which is the focal point of the cabin. The touch screen controls nearly all the major and minor functions of the vehicle.
The new XC90 will also pioneer Apple's innovative CarPlay technology, which will enable it to integrate seamlessly with the smartphone.
Meanwhile, Mazda finally unveiled its long-awaited fourth-generation MX-5, which is both smaller and lighter than its predecessor.
The MX-5 is celebrating a quarter-century as one of the most popular and affordable roadsters, and the new mark is sure to attract the keenest of sports car drivers.
Mazda has managed to save around 100kg on the previous model, with its new lightweight design coupled with a smaller footprint and lower position making it a sleek, responsive machine.
Being launched for sale next year, the drop-top will be available with a 1.5-litre engine at a price of about £20,000.
Jaguar also oozes confidence with its new XE model, insisting it more than competes with rivals BMW, Mercedes and Audi in the compact executive market.
It boosts sublime technology, economical yet powerful engines - made in-house by Jaguar for the first time - and first-rate safety features, and will start appearing in dealerships from around next May.
The 2.0-litre turbodiesel claims to be the most efficient Jaguar ever, producing 161bhp yet emitting just 99g/km CO2 with the six-speed manual gearbox, promising 75.0mpg.
Even the supercharged 3.0-litre V6 which garners 335bhp and rockets from 0-62mph in 5.1 seconds, available only as an eight-speed automatic, claims to achieve a quite remarkable 34.9mpg while emitting 194g/km.
Copyright Press Association 2014