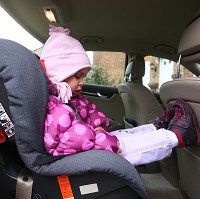 Around three quarters of parents do not know the correct laws around the use of child seats in cars, a survey has found.
Under UK law, all children under the age of 12, or under 4ft 5in (135cm), should use a child seat in the car - although safety experts recommend a minimum height of 4ft 11in.
Research by road safety charity Brake found that only 26% of parents are familiar with this law and 5% even admitted to never using a child or booster seat.
If a car seat has been involved in a road accident it should be replaced, even if it does not appear damaged. Drivers should check theircar insurance to see if child seat cover is included in their policy.
The study found that 27% of parents defy advice from safety experts by using a second-hand child seat or booster seat and nearly half (47%) do not always check their child is using an appropriate seat when travelling in a taxi or someone else's car.
Julie Townsend, deputy chief executive of Brake, said: "Every year, more than 700 young children are killed or seriously injured on our roads.
"These sudden and violent events end lives that have barely begun, and devastate whole families and communities, who struggle to come to terms with such senseless harm being inflicted on a young child. They are not accidents we must learn to live with: every child death and serious injury on roads is preventable."
Copyright Press Association 2013