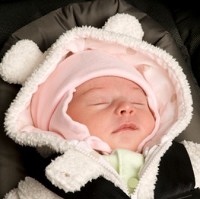 The drive home from the maternity ward after giving birth is parents' most treasured motoring memory, according to a new poll.
Over a quarter (26.9%) of respondents nominated ferrying their newborn back from the hospital as their favourite ever drive, a Citroen survey of more than 1,000 parents aged 25-75 discovered.
The drive to the hospital for the birth was the second most unforgettable drive, garnering around one fifth (18%) of the votes.
While the dash to the maternity ward can often be a panicky, last-minute affair, it's crucial that the nominated driver has adequatebreakdown cover in case of any mechanical problems en-route.
Family holidays were the third most memorable driving memory, picking up 14.6% of the votes, while one in six parents nominated their first school run as their number one journey.
Around 3% of parents voted for very individual drives, including taking their children to sporting competitions, collecting a newly adopted child, or driving in extreme weather conditions like a bad snowstorm.
Copyright Press Association 2012