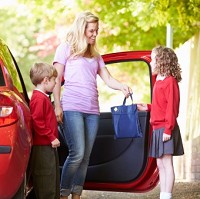 More than a third of parents (35%) have seen a "near-miss" road accident outside their child's school gates, according to worrying new figures.
The report's authors, the highways safety charity Brake and Bridgestone Tyres, have timed the poll to coincide with the launch of a road awareness campaign marking the beginning of autumn.
This is the season - the survey of 1,000 parents of primary school children found - in which mothers and fathers are more likely to be ferrying their young ones to school more frequently.
Over a quarter of parents (26%) tend to take their offspring to school more in winter and autumn, especially in bad weather (86%). And m ore than two-thirds of parents (67%) say they have seen children aged four to 11 cross roads without holding an adult's hand.
Brake's Sarah-Jane Martin describes the statistics as "shocking" and is calling on every motorist to reduce their speed to a 20mph maximum, especially around school gates.
John McNaught, managing director of Bridgestone, says autumn's shorter days present far greater challenges for school run drivers.
YouGov conducted the poll for the two organisations.
Copyright Press Association 2014