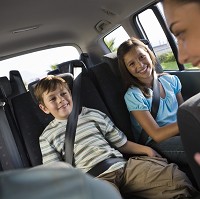 Mums and dads drive 30 miles and spend well over three hours in the car every week ferrying around their children.
Whether it be taking them to school, to see their friends or to enjoy their hobbies, new research suggests parents are on the right lines when they joke they are just taxi drivers for their kids.
The OnePoll survey of 2,000 people, commissioned by Goodyear, suggests adults typically drive more than 26,000 miles and spend more than 3,000 hours at the wheel transporting their offspring around from the ages of three to 20.
But it seems parents themselves are making sure they too get something out of the journeys.
Taking advantage of the time with their children, many use it to ask what they are doing or have done that day (60.1%); determine what they are learning at school (49.6%) or find out more about their boyfriends or girlfriends (24.8%).
Around one in five (20.7%) parents play games like I-spy in cars with their children.
Most mums and dads drive their children around as they think it is safer to do so than letting them go under their own steam (49.3%) and around a quarter (24.3%) said their youngsters would be late arriving at school or elsewhere if they didn't.
Copyright Press Association 2014