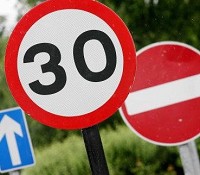 The parents of a two-year-old girl who was run over by a mobility scooter have said they intend to lobby for a change to the law regarding the vehicles.
Madison McNair was injured when a 70-year-old woman on a scooter collided with her in Doncaster. Police said they could take no action over the incident unless it could be proved that the pensioner meant to hurt the child.
Her parents, Kerry and James, said they have now contacted Labour MP Jeff Ennis to lobby for a change to the Road Traffic Act, which does not currently class the machines at motor vehicles.
A force spokeswoman said: "The woman, in her 70s, was spoken to at the scene by a police officer and was advised on her future conduct and usage of the mobility scooter.
"Mobility scooters are classed as mechanically propelled vehicles, rather than motor vehicles. Therefore, this type of vehicle does not fall under road traffic collisions and is dealt with as an accident.
"If police considered there was a degree of intent to injure a person then police would take further action. If not, the driver would be given advice about their conduct."
Copyright © Press Association 2009