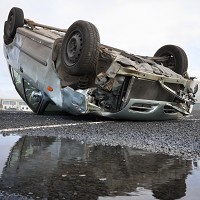 Parents are more worried about their offspring being involved in car crashes than of them being crime victims, unemployed or exam failures, a new survey reveals.
A Ford report shows that 31% of parents of young people aged between 17 and 24 living in the UK are worried about them being in a road accident.
Another Ford survey suggests they are maybe right to worry, as 45% of drivers between the ages of 17 and 25 admit to going faster than the speed limit, 27% have been involved in a smash or near-miss and 11% have lost control of a vehicle in the past.
A tenth have either been responsible for, or on the receiving end of road rage and 4% said have driven while over the legal alcohol limit.
The UK statistics were taken from a poll of young motorists and their parents carried out in this country and France, Germany, Italy and Spain. Overall, most young drivers had exceeded speed limits, a half had eaten at the wheel and two fifths use their mobile phones while motoring.
Ford also pointed to official UK data that showed that young drivers were involved in one in five road accidents that caused injuries in 2011. A quarter of all the casualties, 1,522, were either killed or seriously hurt. It has begun Driving Skills for Life programmes in each of the five countries, similar to the one it launched in the US a decade ago that gives free driving training to young motorists.
Copyright Press Association 2013