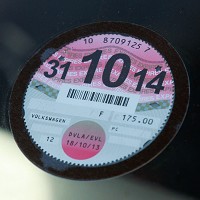 Drivers can now remove their paper tax disc from their windscreen after the entire system went electronic.
The traditional small discs showing that vehicle excise duty (VED) has been paid have been a requirement on windscreens since 1921.
But renewals will now be done either online or at Post Offices - and police will make their checks electronically.
It is claimed the change will save the DVLA £7 million a year.
The RAC though has expressed concern that the number of motorists failing to pay could soon become as great as those who drive without insurance.
This could result in a £167 million a year loss to the Exchequer - even though the Government insists it will be just as difficult to avoid paying VED as under the previous system.
Ministers say those who have not paid will be spotted on automatic number plate recognition cameras or by police checking VED data information.
Copyright Press Association 2014