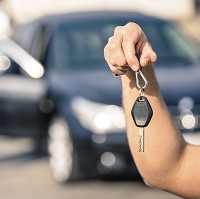 The Government has made a "mess" of scrapping the paper part of the driving licence, according to Labour.
Instead of motorists having the information they needed to hire a car in their pocket, shadow transport minister Richard Burden says they have to rely on an online service which broke down on its first day.
The counterpart to the photocard driving licence is now invalid and will no longer be issued by the DVLA . It is part of the Government's sweeping 'Red Tape Challenge' consultation on road transportation, which hopes to save an estimated £8 billion by shifting the operations of its motoring agencies online.
Now motorists who want to hire a car abroad must contact the DVLA and obtain a checking code to give details of their driving record.
The code will enable the car hire firm to access the required information. But Mr Burden describes the new system - which does not apply to drivers in Northern Ireland - as a mess rather than a cutting of red tape.
He claims a person is essentially going through a lot of trouble just to get the same information that they would have had in their pocket.
The Labour politician also criticises the fact if a person does not get the car hired in three days after they have obtained the code, they have got to go back to square one because the code will have expired.
But Secretary of State Patrick McLoughlin stands by the reforms, which came into effect on June 8.
He admits there was a problem with the online system on the first morning when it went live, but claims since then it has been operating successfully.
Mr McLoughlin also alludes to the phone service that motorists can use to obtain the check code.
Copyright Press Association 2015
https://www.gov.uk/government/organisations/driver-and-vehicle-licensing-agency (DVLA)